The 'Physical Biology of Stem Cells' course runs in parallel to the Wellcome Four-Year (MRes + PhD) Programme in Stem Cell Biology & Medicine, with the distinction that students recruited to the MRC Programme will be offered rotation projects in the areas of Physical Sciences/ Mathematical/Computational Sciences.
The Medical Research Council kindly provides the funding for this specialised 4-Year (MRes + PhD) Programme, focusing on the physical biology of stem cells. Applications are considered once each year, and up to two studentships are available per year.
The Programme is targeted specifically to applicants with a Physical Sciences, Mathematical or Computational Sciences background, who are interested in applying their training to aspects of stem cell biology. For course information, click here.
These studentships come with a stipend at the standard RCUK rate, then topped up to Wellcome stipend rate from departmental funding sources.
Physical Biology of Stem Cells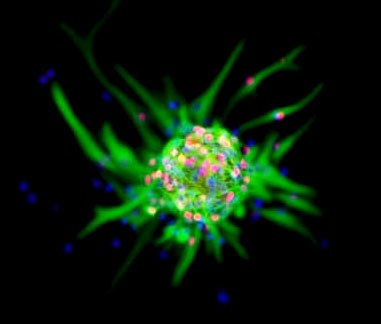 Image reproduced by kind permission of Professor David Rowitch
Stem cells are defined by their dual capacity to self-renew and differentiate into somatic cells. Great inroads have been made towards understanding how stem cells generate tissue and sustain cell turnover in tissue. At this time most of the inroads have been made by studying the individual biochemistry of the stem cell; much less progress has been made in understanding their function across scales – from molecules to tissue – or how they interact with their physical environment. 
In studying the physical biology of stem cells, the aim is to identify and characterise the importance of physical, chemical, mathematical, and engineering considerations in the function of stem cells. This could include mathematical modelling of homeostasis in tissues, engineering controlled environments to control stem cell function, imaging and biotechnology, using single molecule approaches to study molecular interactions, systems biology, or investigating the importance of the stem cell's response to forces in its environment. The research generated by the MRC studentships should provide new foundations for biomedical discovery, biotechnological and biopharmaceutical exploitation, and clinical applications in regenerative medicine.
Supervisors
For a list of participating supervisors on this PhD Programme, please click here. 
Students recruited to the MRC-funded 'Physical Biology of Stem Cells' Programme may also be supervised by one of our Affiliated Research Groups.
Physical Sciences Projects
Cambridge Stem Cell Institute groups, work on joint projects with Physical Scientists outside of the CSCI. Below are examples of some of these collaborative projects:
Ragnhildur Thóra Káradóttir
'High resolution mechanical mapping of central nervous system tissue' - with Dr. Jochan Guck and Dr. Kristian Franze
'Mechanical properties of white matter in health and disease' - with Dr. Jochan Guck and Dr. Kristian Franze
'Role of mechanosensing ion channels in neuronal growth' - with Dr. Kristian Franze
Bertie Göttgens
'The computational reconstruction and analysis of blood stem cell regulatory networks' - with Professor Jaap Heringa's group in Amsterdam.
Various collaborations with Dr. Jasmin Fisher from Microsoft Research including 'Executable modeling of blood cell development from pluripotent embryonic stem cells'