Dr Kevin Chalut
Physical Biology of Cell Fate Transitions
Email: kc370@cam.ac.uk 
Laboratory: Cambridge Stem Cell Institute, Jeffrey Cheah Biomedical Centre
Departmental Affiliation: Physics
Biography
Kevin Chalut is a physicist by training, who became fascinated in recent years with stem cells and development. In particular, he has been trying to seamlessly connect physics and engineering with stem cell and developmental biology to better  understand how cells make fate decisions. He received a PhD in Physics from Duke University and his post-graduate work was in biomedical engineering and biophysics, with a particular focus on imaging applications to cancer and stem cells. Since 2011, he has been a Royal Society University Research Fellow, which has allowed him the freedom to transition to a highly multidisciplinary research programme studying the physical biology of cell fate choice.
Funding
Royal Society, Leverhulme Trust, Medical Research Council, BBSRC, ERC, Isaac Newton Trust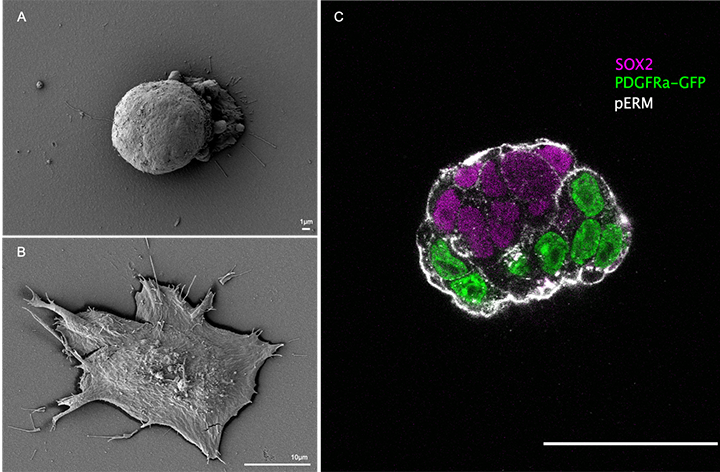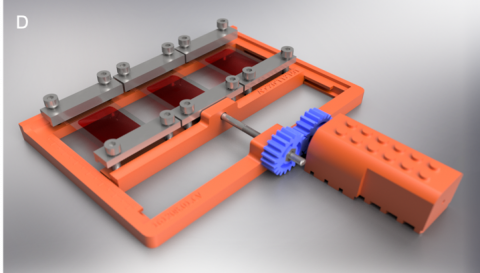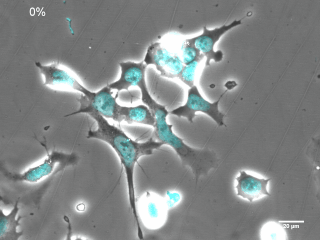 (A) is an electron microscopy image of an embryonic stem cell in a naive pluripotent state and (B) is an image of a differentiating cell. Noting the difference in morphology, we ask how these shape changes, which reflect a change in the forces on a cell, are regulating cell fate choice. Images are courtesy of Henry de Belly, collaboration with Prof Ewa Paluch. (C) Two early embryonic lineages (the epiblast and the primitive endoderm) were randomly mixed at first, only to segregate as shown in the panel. We ask what mechanical aspects are leading to this lineage segregation, and what changes in cell signalling and fate lead to these mechanical differences. Image courtesy of Dr. Elena Corujo-Simon, collaboration with Prof Jenny Nichols. (D) and (E) are an image of a home-made cell stretcher with an image of embryonic stem cells being stretched. We use this stretcher, and other tools such as hydrogel substrates, to apply controlled mechanical stresses to cells in order to understand how mechanical signalling drives cell fate choice. Images courtesy of Dr. Christophe Verstreken.
Research
The transformation of a stem cell into a mature tissue cell consists of a progression of fate choices. How these fate choices are regulated remains to be seen, notwithstanding the importance of understanding and controlling them for the purposes of basic science and regenerative medicine. To gain a better comprehension of the process of cell fate choice, at least two challenges must first be met. First, mechanical signalling is a potent regulator of stem cell function, yet its role in cell fate choice is yet to be deciphered. Second, it is not known exactly how a cell changes from one state to another state. Our lab aims to meet these two challenges. We will do this using tools and concepts of physics and engineering, which include microfluidics/microfabrication, hydrogel technologies and physical modelling. The techniques we are developing allow us to completely control the microenvironment and signalling environment of stem cells, and probe exactly how stem cells make fate choices. The technologies we are developing also have significant relevance to stem cell therapies: we can synthesize biomimetic environments to culture stem cells for expansion and manipulation to enhance therapeutic outcomes.

Group Members
James Baye, Mehdi Hamouda, Andrew Hodgson, Timo Kohler, Celine Labouesse, Carla Mulas, Chris Revell, Bao Xiu Tan, Christophe Verstreken, Ayaka Yanagida.
Plain English
We are a stem cell and developmental biology lab, devoted to using tools and concepts of physics and engineering to understand how stem cells make decisions. We want to understand the physical aspects that give rise to the unique ability of stem cells to both self-renew and make fate decisions. We use microfluidics, hydrogels and physical modelling to investigate stem cells and how they respond to signals. Understanding the physical interplay between stem cells and their environment, both in their native environment and in culture, will help us to gain a better understanding of stem cell function, and formulate better strategies to control it.
Key Publications
Niche stiffness underlies the ageing of central nervous system progenitor cells. Segel M, Neumann B, Hill MFE, Weber IP, Viscomi C, Zhao C, Young A, Agley CC, Thompson AJ, Gonzalez GA, Sharma A, Holmqvist S, Rowitch DH, Franze K, Franklin RJM, Chalut KJ. Nature. 2019 Sep;573(7772):130-134. PMID: 31413369
Auxetic nuclei in embryonic stem cells exiting pluripotency. Pagliara S, Franze K, McClain C, Wylde G, Fisher C, Franklin R, Kabla A, Keyser U, Chalut KJ.

 

Nature Materials, 2014, 13, 638-644.

 

PMCID:PMC4283157