Professor Robin Franklin
Adult neural stem cells and CNS regeneration
Email: rjf1000@cam.ac.uk 
Laboratory: Cambridge Stem Cell Institute, Jeffrey Cheah Biomedical Centre
Departmental Affiliation: Clinical Neurosciences; Cambridge Neurosciences
Biography 
Robin Franklin is Professor of Stem Cell Medicine. He obtained his undergraduate degrees in Physiology and Veterinary Medicine and his PhD in Neuroscience. He has worked predominantly on the biology of myelin regeneration (remyelination) and investigating strategies by which this important regenerative process may be enhanced therapeutically. He is at the forefront of studying the cellular mechanisms of remyelination, providing insights into how adult stem cells are recruited to areas of demyelination and the extrinsic and intrinsic factors that regulate their differentiation into remyelinating oligodendrocytes and other glial cell types. He is also Director of the UK MS Society Cambridge Centre for Myelin Repair, a consortium of Cambridge-based scientists and clinicians working towards stem-cell-based therapies for myelin regeneration. He is a Fellow of the Academy of Medical Sciences.
Funding
MS Society, Wellcome, MRC, AMRF, BIRAX, Biogen, DDF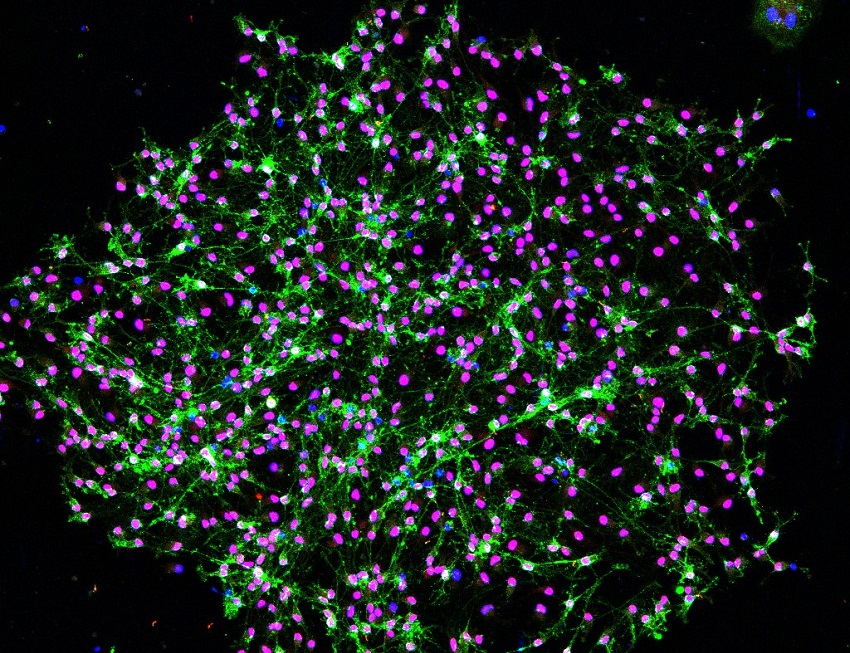 CNS progenitor cells isolated from the aged adult rodent brain (Credit: Dr Bjoern Neumann)
Research
The Franklin lab studies the mechanisms of Central Nervous System (CNS) regeneration with a particular focus on remyelination, a regenerative process mediated by adult stem cells in which new myelin sheaths are restored to demyelinated axons. Using a wide range of experimental approaches, we are examining extrinsic (environmental) and intrinsic (transcriptional/epigenetic) factors that govern the responses of adult neural stem/precursor cells to injury and their differentiation into oligodendrocytes and other glia following CNS injury. The potential medical benefits of this research are to stop nerve cell degeneration and therefore provide a treatment for the currently untreatable secondary progressive phase of multiple sclerosis.
Group Members
Juan Cubillos, Penelope Dimas, Sarah Foerster, Tanay Ghosh, Ginez Gonzalez, Myfanwy Hill, Daniel Morrison, Bjoern Neumann, Feride Oeztuerk-Winder, Khalil Rawji, Amar Sharma, Zhaozong Wu, Adam Young, Chao Zhao.           
Interview for the US National Multiple Sclerosis Society can be read here. 
Plain English
In our lab we study how stem cells in the adult brain respond to damage or disease and are able to replace lost cells. Our particular interest is in the regeneration of oligodendrocytes, the cells that make the insulating coating (myelin) around fibres on which their function and survival depends. 
Key Publications
Zawadzka M, Rivers LE, Fancy SPJ, Zhao C, Tripathi R, Jamen F, Young K, Goncharevich A, Pohl H, Rizzi M, Rowitch DH, Kessaris N, Suter U, Richardosn WD,

 

Franklin RJM

 

(2010)

 

CNS-resident glial progenitor/stem cells prodcude Schwann cells as well as oligodendrocytes during repair of CNS demyelination.

 

Cell Stem Cell

 

6: 578-590.

 

PMCID:PMC3856868