We aim to create an open and engaged research culture.
Current initiatives
Steering committee
Our steering committee provides academic oversight of our public engagement programme and allows us to respond to the needs and the interests of our scientific and external communities. The PESC meets four times a year to discuss current and future public engagement plans and pioneer ways to further embed public engagement at the Institute.
Cedric Ghevaert, Chair & Academic Champion for Public Engagement
Greg Palmer, Public Engagement Manager
Beth Elliott, Public Engagement Coordinator
Srinjan Basu, PI rep
Elisa Laurenti, PI rep
George Vassiliou, PI rep
Shaline Fazal, PostDoc rep
Frances England, PhD rep
Maike Steindel, PhD rep
Helene Doerflinger, Wellcome / CRUK Gurdon Institute
Branwen Brockley, Cancer Research UK Cambridge Institute
Bob Bragger, Cambridge and District Branch, MS Society
Seed fund
Our Public Engagement Seed Fund aims to support staff and students in developing new ways of engaging the public with stem cell research. All Institute members and affiliates may apply either as individuals or as a group. 
Funding: £500 - £2000
To discuss a potential idea and request an application form email the team at engage@stemcells.cam.ac.uk.
Want some inspiration? Check out previous seed fund projects:
Project                         
   Year    
Awardees
Group
Stem Cell Robots
2015    
Elisa Laurenti
Laurenti
Stem Cell Beer
2017
Dan Bode and Tim Lohoff
Wellcome PhD programme
Stem Cell Exchanges
2017
Mariana Alves and Katie Tremble
Silva
4L Rally, Morocco
2019
Marion Perrin and Dan Bode
Vallier and Kent
#blackgirlinscience
2019
Oluwaseun Ogundele
Hendrich
Stem Cell Beer II
2020
Jamie McGinn, Ross McGinn, Nefeli-Skoufou Papoutsaki   
Alcolea, Franze*, Winton*
Patient-led conference
2020
Alan Warren
Warren*
Cord blood consultation
2020
Emily Calderbank
Laurenti
Girl Guides STEM Day
2020
June Park
Lee
Code for a Change
2021
Mariana Quiroga Londoño

Göttgens

What would you become?
2022
Nicola Wilson
G

öttgens
* Affiliate Groups
Resources
Need advice on planning, delivering and evaluating public engagement activities? The MRC have created a helpful guide on PE.
Want to involve the public or patients in your research? Check examples of Public and Patient Involvement (PPI) from the NIHR. 
Recent highlights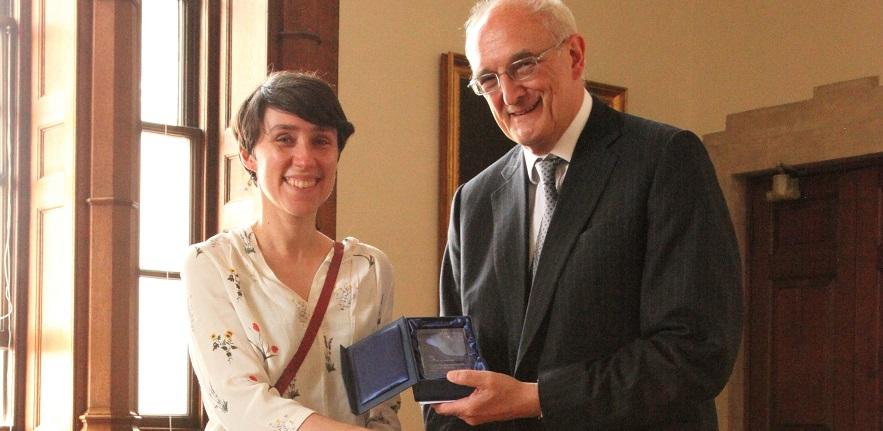 Cambridge Stem Cell Institute group leader Dr Elisa Laurenti was awarded a University of Cambridge Public Engagement with Research Award in 2017 for her Stem Cell Robots project. Elisa received a £1,000 prize presented by the Vice-Chancellor in an award ceremony at the the Old Schools.
Institute Public Engagement Prizes
Our Director presents a set of annual prizes for public engagement at our Institute Retreat to recognise i) an individual who has made an outstanding commitment to public engagement and ii) an excellent engagement project or programme. Previous winners are listed below.
Year
Prize 

Awardees  

Director's remarks

2018
Personal
Justyna Rak

'A stalwart presence at Institute PE events, Justyna has volunteered at every large public event we have done this year, including Cambridge Science Festival and BRAINFest, and has given numerous hours of time to engaging families, children and adults with stem cell science. In particular though, Justyna has been integral to the re-development of the Stem Cell Robots, working closely with Elisa Laurenti to come up with an exciting new blood stem cell board. She even took the robots home at Christmas so she could work on the new coding with her husband Jean-Charles! Through her work Justyna has helped the Institute reach out to new communities in Cherry Hinton where she resides, including a Saturday morning story session at the local Library (photo), and the Institute's first contribution to Cherry Hinton Festival.'

 
Project
Dan Bode and Tim Lohoff

'Regenerator, our stem cell brew, has been a sell-out success this year, as an exciting new partnership with Mark and Simon from Moonshine Brewery, who are here with us this evening. Driven by Tim and Dan's love of beer and desire to reach a 'non-traditional' science crowd, the project launched at Cambridge Beer Festival in May 2017 and has now engaged over 500 people in face to face conversations, the majority of which with people who would never usually choose to attend science events. Countless more have drunk our ale and collected our beer matts and in the process, learnt about the science we do. The project continues to grow with the ongoing Regenerator on tour series touring Cambridgeshire pubs with science cafes, quizzes and comedy, and a potential new brew on the cards. We're excited to see where this great partnership will go next!'

2019
Personal

Green Lab

 

For contributions to LifeLab in Peterborough
 
Project

Cedric Ghevaert

 

For his charity concert in Newmarket
2020
Personal

Oluwaseun Ogundele

For digital engagement and content creation for #blackgirlinscience
 
Project

Franklin Lab

For the A Pattern for Progress project
2021
Commitment
Shaline Fazal
For outstanding contribution to work with patient and community groups, and ongoing support to create an engaged research culture at the Institute.
 
Innovation

Mariana Quiroga Londoño

For new and novel approaches to engagement over the past year, including launching the Code for a Change platform, partipating in the Unknown Unknowns project, and reaching new audiences across social media.
 
Partners
Anna Brownsted, David Cain, Harold Offeh, Julie Stevens
For enabling exceptional interactions with patient and community groups, as valued partners to our Institute public engagement team.
Our strategic approach
Why?
Delivery of our other aims is reliant on the proactive involvement of our research community. The public and the science benefit most when it is the researchers who lead engagement.
Engagement should be recognised as an integral part of researchers' work so that they can dedicate time and expertise to excelling.
Staff and students must be confident and supported to engage the public effectively.
How?
We will run a varied and challenging engagement programme to provide a testing ground for researchers to build their experience and confidence.
We will offer advice, support and training to develop researcher-led engagement projects, including applications for funding and seed funds.
We will create a lab champion network to inform and share our engagement approach and build a community of practice.
We will celebrate success through annual engagement awards and support efforts for wider accreditation for engagement at a University-level.
Our academic champion will chair our Public Engagement Steering Committee, with appropriate principal investigators to ensure embedded academic oversight of engagement.