Biography
Professor McCaskie is the Professor of Orthopaedic Surgery and Head of the Department of Surgery at the University of Cambridge. He is the Director of the Arthritis Research UK Tissue Engineering Centre, which brings together many centres; University of Cambridge, Newcastle University, the University of Aberdeen, Keele University/the Robert Jones and Agnes Hunt Hospital NHS Foundation Trust in Oswestry and the University of York. Funded by a core grant of £2.4 million over the first five years from Arthritis Research UK, the Centre grant was recently renewed (£1.9M) until 2021. The centre brings together leading clinicians, engineers and biologists from research and clinical groups and to develop regenerative therapies for people with Osteoarthritis. Professor McCaskie led the Smart Step programme (£1.1M) as part of Stage II UK Regenerative Medicine Platform and is a co-investigator in the recently established UK Regenerative Medicine Platform Hub; Engineered cell environment (£5.1M). His clinical interest is lower limb, particularly hip disease in young patients and he aims to link my research to the clinic e.g. cell therapy trial for knee arthritis (ADIPOA2 EU €5.9M only UK partner). He is one of the three editors of Bailey and Love's Short Practice of Surgery 27th Edition and is the Director of the Academic Foundation Program in Cambridge and initiated the transplant and regeneration theme.
Funding
Versus Arthritis (formerly Arthritis Research UK), MRC, Evelyn Trust, UK Regenerative Medicine Platform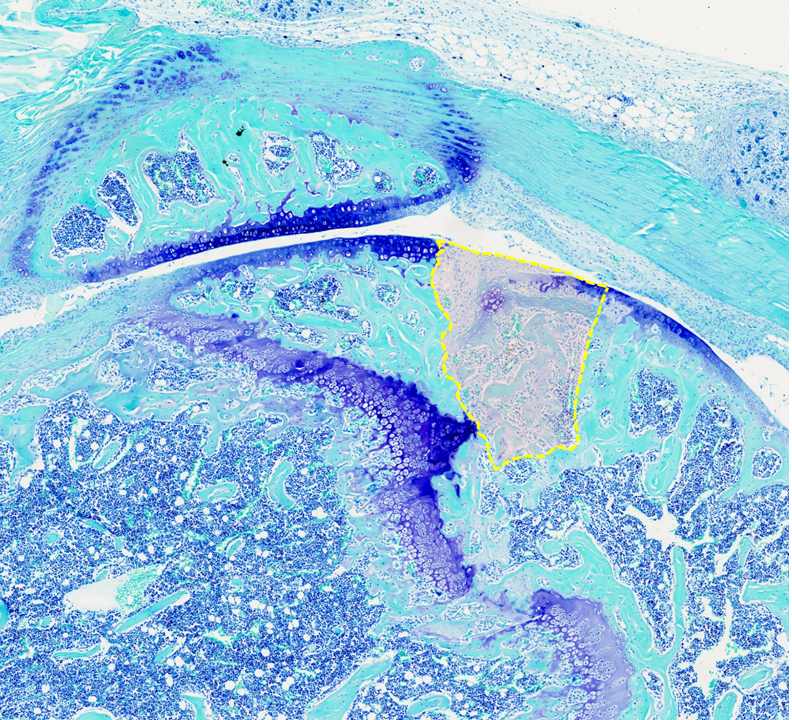 Immunofluorescence image of a section through a joint illustrating the cellularity (nuclei stained blue) of the articular cartilage and meniscus.  The boundaries of the two apposing articular cartilage surfaces and the meniscal tissue are marked with yellow lines. 
Research
Professor McCaskie's aim is to develop innovative therapies for musculoskeletal disease, particularly in Osteoarthritis (OA) which affects around 8 million people in the UK alone. He is currently developing translational pathways for regenerative therapy in this area, linking laboratory research with clinical treatment, including clinical trials.
Laboratory research programmes focus on the opportunity to use adult stem/stromal populations, along with other relevant cell types (haematopoietic and chondrocyte) either alone or with tissue engineering approaches to target early disease. Research also considers the mechanisms of joint destruction relevant to repair.
Translational and clinical programmes seek to use stratified and experimental medicine approaches, particularly focused on imaging and tissue analysis during cartilage repair surgery. The latter will include cell characterisation by phenotype and single cell analysis to understand the role played by cell therapies in the repair of joint tissues.
Group Members
Mohammad Alkhrayef, Francesca Beaton, Mark Birch, Roger Brooks, Stephen Gadomski, Frances Henson, Andrew Hotchen, Wasim Khan, Sarah Lindsay, Stephen McDonnell, Karin Newell, Matthew Seah
Key Publications
Palmer, A.J.R., Ayyar Gupta, V., Fernquest, S., Rombach, I., Dutton, S.J., Mansour, R., Wood, S., Khanduja, V., Pollard, T.C.B., McCaskie, A.W., Barker, K.L., Andrade, T.J.M.D., Carr, A.J., Beard, D.J., Glyn-Jones, S., FAIT Study Group, 2019. Arthroscopic hip surgery compared with physiotherapy and activity modification for the treatment of symptomatic femoroacetabular impingement: multicentre randomised controlled trial. BMJ 364, l185. 

PMCID: 

PMC6365841 
Elliott KS, Chapman K, Day-Williams A,... McCaskie A,... The arcOGEN consortium,... Zeggini E. Evaluation of the genetic overlap between osteoarthritis with body mass index and height using genome-wide association scan data. Ann Rheum Dis. 2013, 72(6), 935-941. PMCID: PMC3664369 
Zeggini E, Panoutsopoulou K, Southam L,... McCaskie A, Valdes AM, Spector TD, Loughlin J. Identification of new susceptibility loci for osteoarthritis (arcOGEN): a genome-wide association study. Lancet 2012, 380(9844), 815-823. PMCID:PMC3443899