Professor Brian Huntly

Leukaemia stem cell biology and leukaemogenesis

Email: bjph2@cam.ac.uk

Laboratory location: Cambridge Stem Cell Institute, Jeffrey Cheah Biomedical Centre

Departmental Affiliation: Haematology
Biography
Prof Brian Huntly is a clinical research scientist who combines running a laboratory group with his practice as a Consultant Haematologist in Addenbrooke's Hospital. He is also Head of the Department of Haematology at the University of Cambridge. He studied Medicine at Edinburgh, trained in Haematology in Dundee and Cambridge and is a member of the Royal College of Physicians and a Fellow of the Royal College of Pathologists. He studied for his PhD in Cambridge and performed post-doctoral work at Harvard, prior to returning to Cambridge to set up his own research group. The interest of his group is in understanding how normal stem and progenitor cell function is subverted during the step-wise evolution of haematological malignancies, particularly acute myeloid leukaemia (AML) and malignant lymphomas. The group focus particularly on transcriptional and epigenetic alterations and combine functional, genomic and proteomic techniques in mouse and cell line models, as well as human primary tumour tissue, to identify disease mechanisms and potential therapeutic targets.
Funding
European Research Council (ERC), Kay Kendall Leukaemia Fund, Worldwide Cancer Research, Medical Research Council (MRC), Wellcome
External links
www.cimr.cam.ac.uk/research/affiliated/huntly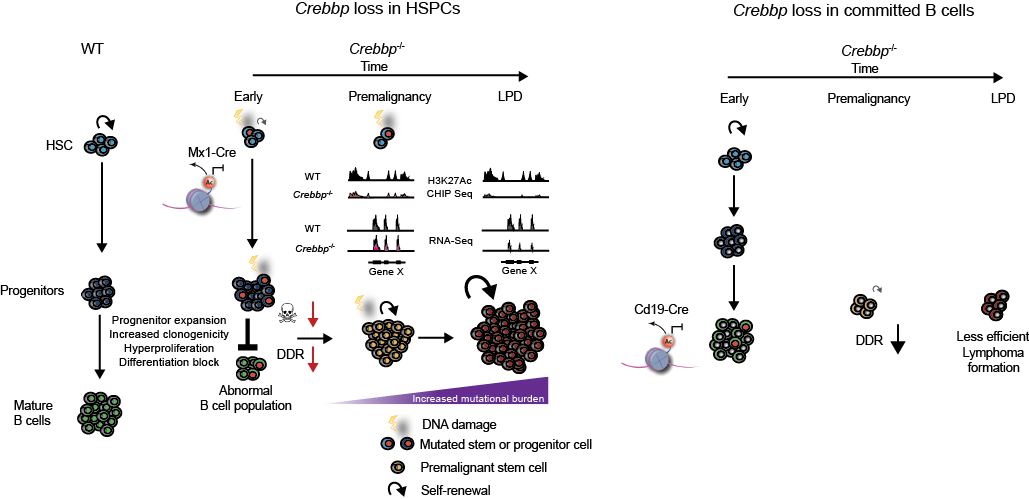 Model of mechanisms and stage specific nature of Crebbp tumour suppression in lymphoid malignancies. Following early loss of Crebbp activity in the HSPC compartment, abnormal epigenetic regulation, post-translational modifications of substrate proteins and altered transcription lead to expansion of lymphoid progenitors, blocked differentiation, increased proliferation and clonogenicity within this expanded progenitor pool. In association with an alteration of the DNA damage response mediated through suboptimal Crebbp acetylation of p53, DNA double strand breaks accumulate and accompanied by a relative decrease in apoptosis, lead to the retention of mutations within B-cell progenitors. We illustrate the epigenetic priming of specific loci at earlier time points, where H3K27ac CHIP-seq and RNA-seq at the critical gene X locus read out in terms of downregulation of gene expression only at later timepoints during lymphoma evolution. We speculate that the molecular aberrations cumulatively acquired interact with this primed epigenetic state and lead to the restoration of self-renewal in this abnormal pre-malignant stem cell population and to the evolution of Lymphoma.
Research
Leukaemias have recently been demonstrated to be wholly dependent upon a small population of so-called cancer stem cells. These cells represent the critical targets for treatment and a greater understanding of their biology and its interface with normal stem cell function is fundamental to improving treatment outcomes. 
The focus of the Huntly laboratory is on this interface. We use a combination of techniques in cell line and animal models as well as confirmatory studies in primary human tissue to dissect stem cell function. Our aim is to understand how normal stem cell function is subverted in cancer and how these processes might be therapeutically targeted to improve the outcome in haematological malignancies. We are examining the role of mutations that occur in and alter the role of haematopoietic stem and progenitors as early events before leading to the subsequent development of leukaemias and lymphomas (pre-leukaemic stem cells). Many of these mutations alter epigenetic regulation, enhancer function and transcriptional programmes and these are all ongoing areas of investigation within the lab. 
Therapeutically, a recent example of our work is the identification of the Bromodomain and extra terminal (BET) proteins as critical mediators of leukaemia stem cells in AML and the development of an inhibitor of these proteins that has already entered early phase clinical trials in relapsed blood cancers.

Group Members
Shuchi Agrawal Singh, Paolo Gallipoli, George Giotopoulos, Sarah Horton, Ludovica Marando, Eshwar Meduri, Shabana Vohra, Haiyang Yun.
Plain English
Our group are interested in the interface between normal and malignant haematopoietic stem cell biology. Comparisons of these systems will allow us to determine how normal regulatory mechanisms are corrupted to generate haematological malignancies. We use experimental model systems and patient sample to answer these questions. This information will provide the basis for targeted therapies to improve the dismal treatment outcomes for haematological cancers. 
Key Publications