CCMR Principal Investigators
 Principal investigators
 
Member of the CCMR Strategic Committee
Stefano Pluchino is Professor of Regenerative Neuroimmunology and Honorary Consultant at the University of Cambridge since 2010. He obtained his MD and PhD at the University of Siena (Italy), and progressed to two consecutive post doctorate appointments at the San Raffaele Scientific Institute in Milan, Italy.
His research over the last 20 years has recalibrated the classical view that cellular grafts only function through structural cell replacement and opened up a new therapeutic avenue by which to use exogenously delivered stem cells, or even stem cell-derived acellular therapies that include extracellular vesicles and exosomes.
His main goal is to develop experimental molecular medicines, including those with stem cells and gene therapy vectors, to slow down the accumulation of irreversible disabilities and improve functional recovery after progressive multiple sclerosis.
He has published over 250 papers - including some breakthrough articles in Nature, Cell Stem Cell and Molecular Cell - and is internationally recognised as a leader and pioneer in the field of Regenerative Neuroimmunology. He is the recipient of several international awards, such as the 2003 European Charcot Foundation (ECF) Award, the 2006 Serono Foundation Multiple Sclerosis Award, the 2007 Rita Levi-Montalcini Award, and the 2010 European Research Council (ERC) Consolidator Award. 
He was the recipient of the 2007 Rita Levi-Montalcini award (FISM), the 2009 Italian Ministry of Health Young Investigator Award and the 2010 International Royan Award for outstanding research in Stem Cell Biology and Technology.
Affiliaton: Department of Clinical Neurosciences
---

Joanne Jones is Principal Investigator at the University of Cambridge and an Honorary Consultant Neurologist at Addenbrooke's Hospital Cambridge, sub-specializing in the care of individuals with multiple sclerosis and other inflammatory disorders of the nervous system.
She obtained her medical degree from Bristol and her PhD from Cambridge University. She became an independent PI in 2015, and now runs a team studying mechanisms of immune regulation. Her group has a particular interest in understanding immune regulation within tissues, and is involved in generating a human immune cell atlas as part of the wider cell atlas project. As a clinician-scientist she has a strong translational track record being Chief Investigator on CAMTHY and a co-investigator on numerous other clinical studies.
Joanne was the recipient of the Royal Society of Medicine Gordon Holmes prize in Neurology in 2007, the British Medical Association Strutt and Harper Immunology Prize in 2010 and in 2014 she was awarded the prestigious Wellcome Trust Beit Prize. In 2015 she was selected as one of 25 female "rising stars" in science by the Royal Physiological Society.
Affiliation: Department of Clinical Neurosciences
---
 
Luca Peruzzotti-Jametti is a Senior Research Associate, Honorary Neurology Consultant, and Group Leader within the Department of Clinical Neurosciences at Cambridge University (UK), and Honorary Senior Lecturer in the Department of Metabolism, Digestion and Reproduction, Imperial College London (UK).
Luca obtained his MD from the University Vita-Salute San Raffaele of Milan, Italy (2007). He completed a residency program in Neurology at the same University (2013) and a following PhD in Clinical Neurosciences at the University of Cambridge, UK (2018). During his early graduate studies, he was a visiting scientist in major European universities, such as the University Hospital in Zürich (Switzerland), the University of Aarhus (Denmark), the Laboratory of Stem Cells and Restorative Neurology of Lund (Sweden) and the University of Innsbruck (Austria). He later progressed towards a post-doctoral position at Cambridge University (2018) and then became Group Leader within the Department of Clinical Neurosciences (2020).
Over the last 10+ years, Luca has made key contributions to the understanding of the pathobiology of inflammation in central nervous system (CNS) diseases. His research in regenerative neuroimmunology led to novel experimental advanced therapeutics with neural stem cells, acellular therapeutics (e.g., extracellular vesicles), and small molecules for the treatment of ischemic stroke, spinal cord injury, and progressive multiple sclerosis (MS).
Luca's most recent work is focusing on cellular metabolism and mitochondria to find novel ways to modulate chronic inflammation and favour CNS regeneration. To this aim, he has developed unique tools to model metabolic/mitochondrial dysfunctions in vitro (using human cells and gene editing techniques) and in vivo (with animal disease models); as well as cutting edge techniques to detect metabolic changes in rodent and human cells and tissues. His multi-disciplinary approach is setting the stage for a new series of interventions that target cell metabolism in immune cells, as the next opportunity to promote the healing of the persistently inflamed CNS.
---

Mark Kotter is a NIHR Clinician Scientist at the University of Cambridge and entrepreneur. As a neurosurgeon, he treats patients with spinal cord injury. Mark is known for discovering the importance of macrophages for brain regeneration, which led to the first regenerative medicine trial for degenerative cervical myelopathy, and for developing opti-ox, a gene targeting approach that enables faithful execution of genetic information in cells. Applied to cellular reprogramming, opti-ox demonstrated that robust activation of a new cell type program (encoded in transcription factors) is necessary and sufficient to deterministically induce a new cellular identity. These findings challenge the theory that cell reprogramming depends on stochastically determined permissive states and enable the production of any human cell within days at purities approaching 100%. 
He is the founder of bit.bio, co-founder of cultured meat startup Meatable, and co-founder and trustee of Myelopathy.org, the first charity dedicated to a common yet often overseen condition causing a 'slow motion spinal cord injury'.
Affiliation: Division of Neurosurgery
---

David Rowitch is a pediatrician and developmental neuroscientist. He is Professor and Head of Paediatrics at University of Cambridge, UK, and an Adjunct Professor at UCSF. He obtained his MD from UCLA and PhD degree from Cambridge University. Professor Rowitch is a Wellcome Trust Senior Investigator whose laboratory investigates genetic factors that determine diversity of neural stem cells and glia of the brain during development and the response to injury. He has applied these principles to better understand white matter injury in premature infants, brain cancer, multiple sclerosis and leukodystrophy. As practicing physician-scientist and neonatologist, he established the UCSF 'Neuro-NICU' and led a Phase I first-in-man clinical study of neural stem cell transplant in boys Pelizaeus-Merzbacher Disease. His interest in precision medicine focuses on applications of genomic technologies to diagnose and better understand the biological basis and rational treatment of rare genetic disorders in children. He is academic lead for Cambridge Children's Hospital, researching origins of paediatric physical and mental conditions and preventive interventions within the UK National Health Service (NHS).
Affiliation: Wellcome - MRC Cambridge Stem Cell Institute, Department of Paediatrics
---

Stephen Sawcer is Professor of Neurological Genetics at the University of Cambridge and an Honorary Consultant Neurologist at Addenbrooke's Hospital. He completed a BSc in Physics at Liverpool University before going to medical school (MB ChB) at Birmingham University. He became MRCP in 1991 and FRCP in 2010. His PhD was undertaken at the University of Cambridge and was supervised by Professor Alastair Compston and Professor Peter Goodfellow. Professor Sawcer has worked on the genetics of multiple sclerosis for 30 years with a main focus on genomewide approaches. He is a strategic group member of the International Multiple Sclerosis Genetics Consortium (IMSGC).
CCMR Affiliates
Dr Clemence Blouet is a Group Leader at the MRC Metabolic Disease Unit (MDU), which is part of the Institute of Metabolic Science at the University of Cambridge. Clemence's research focuses on the characterisation of brain nutrient sensing mechanisms involved in the regulation of whole-body energy and glucose homeostasis. Clemence obtained her PhD in Nutrition Physiology from AgroParisTech (France) in 2006. She trained in the laboratory of Professor Gary Schwartz at the Albert Einstein College of Medicine (New York) before becoming an Assistant Professor in Medicine at Einstein in 2013. Clemence then joined the MRC Metabolic Disease Unit to continue her work on central nutrient sensing.
Clemence's lab employ a multi-disciplinary approach to identify and characterise metabolic- and nutrient-sensing cells in the brain, perform discrete molecular manipulations of these cells, and decipher the downstream behavioural, metabolic, and neuroendocrine circuits using refined physiological assessments. Research in Clemence's group recently identified a role for median eminence oligodendrocyte lineage cells in hypothalamic nutrient sensing. Here, myelin exhibits unique morphology, composition, and plasticity, all of which are altered in obesity. One of our goals is to characterise the functional relevance of median eminence myelin in hypothalamic functions.
---
Michael Coleman is the van Geest Professor of Neuroscience at Cambridge UK, studying mechanisms of axon degeneration and synapse loss. He previously led research groups in this field at the Babraham Institute, Cambridge, Cologne, Germany and Oxford, UK. His group identified the first protein known to delay degeneration of injured axons (Wallerian degeneration) leading to the discovery of a pathway of proteins influencing axon degeneration in a wide range of disease models. Their finding that ablation of SARM1 can rescue axons permanently following ablation of its upstream regulator NMNAT2 has generated significant Pharma interest the pathway. Their recent work has used human genetics to link this pathway to polyneuropathies and sporadic ALS, and potentially other disorders, directly in humans. Alongside his research interests, Professor Coleman has a growing interest in coaching and mentoring of academics and efforts to modernise and improve the culture of academic research.
---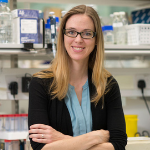 Dr Madeline Lancaster is a Group Leader in the Cell Biology Division of the Medical Research Council Laboratory of Molecular Biology (LMB), part of the Cambridge Biomedical Campus in Cambridge, UK. Madeline joined the LMB in 2015, after completing a postdoctoral fellowship at the Institute of Molecular Biotechnology of the Austrian Academy of Sciences (IMBA) in Vienna, where she developed brain organoids.
Research in the Lancaster lab focuses on human brain development using stem cells to generate brain organoids that allow modelling of human brain development in vitro. The laboratory studies the most fundamental differences between human brain development and that of other mammalian species. The lab also studies cellular mechanisms underlying neurodevelopmental disorders such as autism and intellectual disability.
Madeline was awarded the 3Rs Prize by the National Centre for Replacement, Refinement and Reduction of Animals in Research (NC3Rs) in 2015 for her development of a 3D model of the embryonic human brain created from stem cells (brain organoids), which minimise the use of animals in medical research. She was awarded the International Society for Stem Cell Research (ISSCR) Dr Susan Lim Award for Outstanding Young Investigator and a Vallee Scholarship in 2021 and honoured as the Laureate for Life Sciences in the 2022 Blavatnik Award for Young Scientists in the UK.
---
Dr Maura Malpetti is the Race Against Dementia Alzheimer's Research UK Fellow in the Department of Clinical Neurosciences at the University of Cambridge. She originally trained for her BSc and MSc at the Vita-Salute San Raffaele University in Milan, where she worked in nuclear medicine with FDG PET in Alzheimer's disease and frontotemporal dementia. She then moved to the University of Cambridge for her PhD in Clinical Neurosciences, working on in vivo neuroimaging makers, longitudinal and prognostic modelling in tauopathies, and trained further as a visiting researcher at the University of California San Francisco (UCSF) Memory and Aging Center, and the Ludwig Maximilian University of Munich.
Research in Maura's group focuses on the application of neuroimaging techniques (multi-tracer PET and MRI) to investigate the pathophysiology of neurodegenerative diseases, in order to identify early diagnostic and prognostic markers in dementia - tools that can facilitate the validation of preclinical models, and inform the design of new disease-modifying treatment strategies. In particular, Maura and her team study novel clinically viable PET and other biomarkers for inflammation and synaptic loss in frontotemporal lobar degeneration and related neurodegenerative disorders. Her research programme is highly interdisciplinary in its integration of imaging and clinical data with fluid markers and post-mortem pathology, and ultimately aims to uncover common cross-diagnostic themes and mechanisms.