The Jeffrey Cheah Biomedical Centre (JCBC), previously known as Project Capella, is a new building containing state-of-the-art laboratories which recently became the new home of the Cambridge Stem Cell Institute.
The building, sited on the Cambridge Biomedical Campus, brings all of the Institute's research groups under one roof, resulting in a fully integrated, vibrant and cohesive stem cell community, ideally placed to capitalise on its unique intellectual and clinical environment.
Being based at the Cambridge Biomedical Campus will allow for greater collaboration between scientists and clinicians and further advance the application of stem cell discoveries into the patient setting.
Built by Kier Construction and designed by architects from The Fairhurst Design Group, the six-storey centre is located directly next to the Cancer Research UK Cambridge Institute. 
Along with the Wellcome-MRC Cambridge Stem Cell Institute, JCBC is home to the Cambridge Institute of Therapeutic Immunology and Infectious Disease and the Milner Therapeutics Institute, both with explicitly translational goals. The building contains state-of-the-art research facilities along with a café, seminar room and exhibition space for events.
Virtual tour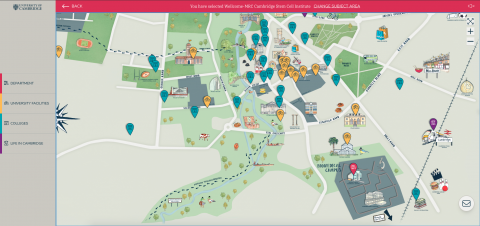 You can take a look around the building by visiting our virtual tour of JCBC.
Videos
You can watch some videos about the building and the surrounding area.