Dr Elisa Laurenti

Human haematopoietic stem cells biology in health and disease

Email: el422@cam.ac.uk

Laboratory: Cambridge Stem Cell Institute, Jeffrey Cheah Biomedical Centre

Departmental Affiliation: Haematology
Biography
Elisa Laurenti received her Master in Biological Sciences from the University of Bologna in 2003. She then undertook her PhD under the supervision of Prof. Andreas Trumpp at the Swiss Institute for Cancer Research in Lausanne, Switzerland. In 2010 she joined Dr John Dick's laboratory at University Health Network (Toronto, Canada) where she became interested in the study of human hematopoietic stem cells.
In 2014, she established her own research group at the Cambridge Stem Cell Institute and Department of Haematology of the University of Cambridge. She is currently a Wellcome Trust and Royal Society Sir Henry Dale Research Fellow. In 2021, she received the International Society for Experimental Hematology Janet Rowley Award which recognises outstanding early career principal investigators and their contributions to the field of haematology.
Funding
Wellcome, Royal Society, BBSRC, Medical Research Council, Kay Kendall Leukaemia Fund, Birax
Left: image of different blood cell types originated from a single human haematopoietic stem cell in vitro (credit: Aditi Vedi); Right: the transcriptional landscape of the human haematopoietic hierarchy, derived from single cell transcriptomics (credit: Hugo Bastos, Nicole Mende).
Research
Haematopoietic stem cells (HSC) are responsible for life-long blood production. They are the best-studied stem cell type owing to decades of research with animal models. Despite the high incidence of blood-related diseases, and accumulating evidence that certain aspects of HSC biology are species-specific, very little is known on human HSC. My laboratory develops integrated approaches combining in vitro and in vivo single cell assays, transcriptomics and bioinformatics to study human HSC and progenitor cells.  We are currently investigating how cell cycle regulation, inflammation and ageing, processes intimately linked to disease initiation, affect human HSC unique molecular and functional properties. Understanding how the cellular and molecular composition of the HSC/progenitor compartment changes in stress conditions and throughout a human lifetime has important implications for regenerative medicine and treatment of blood cancers.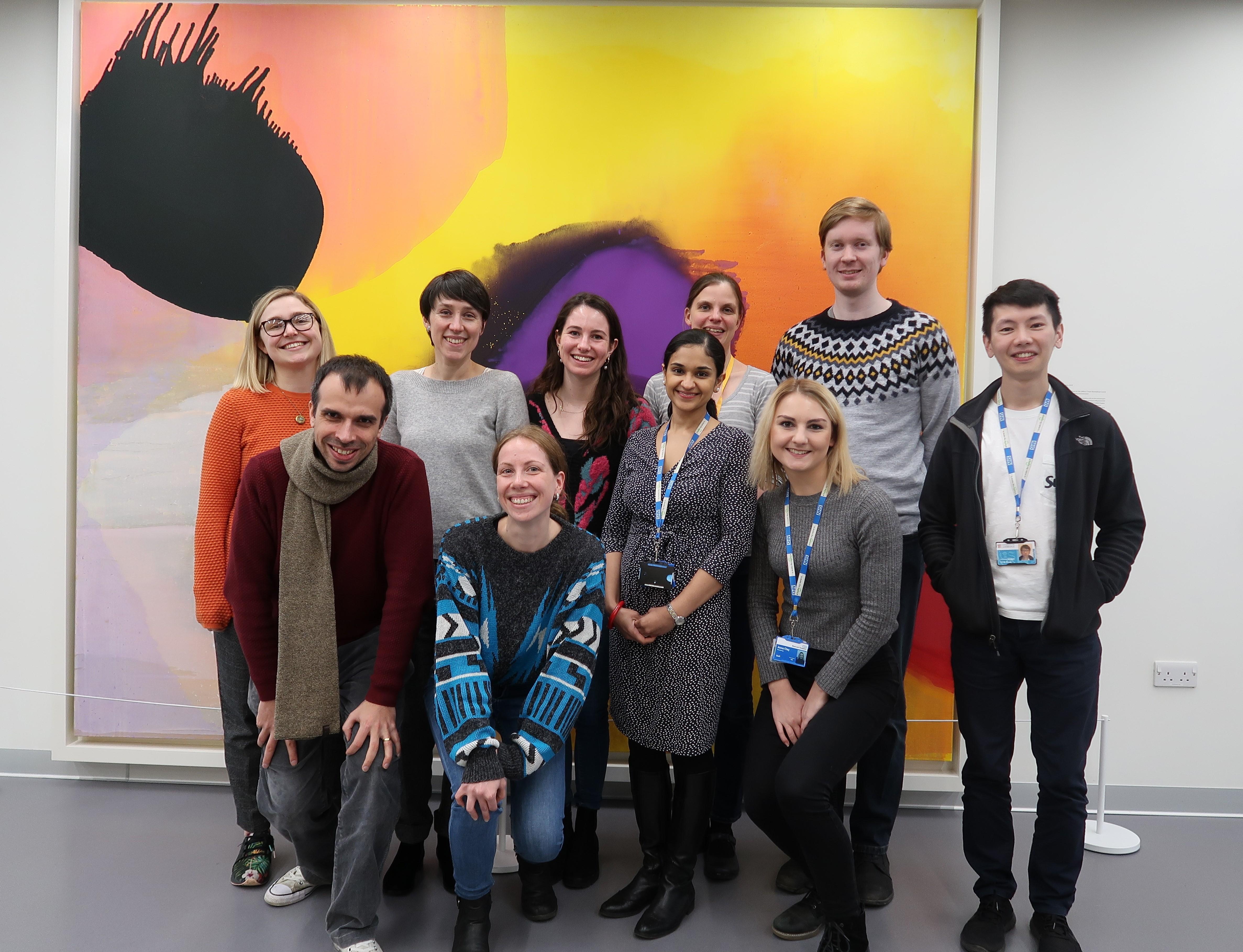 Group Members
Hugo Bastos, Emily Calderbank, Samuel Eyrolle-Cellier, Daniel Hayler, Carys Johnson, Giovanna Mantica, Nicole Mende, Antonella Santoro, Kendig Sham, Aditi Vedi
Vacancies
If you are interested in working with us, please contact us at el422@cam.ac.uk, we are always looking for smart motivated people to join our team. 
Plain English
Every day a trillion blood cells are produced in our body. This amazing turnover is achieved thanks to blood stem cells. These cells have the unique capacity to produce all blood cells in healthy individuals but also after injury or infection. Their function is vital, because if impaired, either blood production fails or cancer arises. Our laboratory thus focuses on these 2 important questions:
How are human blood stem cells different from other blood cell types?

What is the impact of age and disease on human blood stem cell function? For this we measure human blood stem cell responses to a number of signals, compare them to other blood cells and identify specific genes that regulate their behaviour. We also study what goes wrong in blood stem cells when there is inflammation, in the elderly and during the early stages of cancer development. Understanding how blood formation occurs in humans in all of these contexts we hope will help design new therapies against a range of diseases. 
Key Publications
Popescu D., Botting R.A., Stephenson E., Green K., Webb, S., Jardine L., Calderbank E.F., […] Regev A.D., Chedotal A., Roberts I., Gottgens B., Behjati S.*, Laurenti E.*, Teichmann S.D.*, Haniffa M.*, Decoding human fetal liver haematopoiesis. Nature, 574, 2019, 365-371.* equal contribution
Belluschi, S.*, Calderbank, E.F.*, Ciaurro, V., Pijuan-Sala, B., Santoro, A., Mende, N., Diamanti, E., Sham, K.Y.C., Wang, X., Lau, W.W.Y., Jawaid W., Göttgens B., Laurenti E., Myelo-lymphoid lineage restriction occurs in the human haematopoietic stem cell compartment before lymphoid-primed multipotent progenitors. Nature Communications, 2018, 9, 4100. * equal contribution
Laurenti E & Göttgens B. From haematopoietic stem cells to complex differentiation landscapes. Nature 553, 418 (2018) PMID:29364285

Laurenti E*, Frelin C*, Xie S*, Ferrari R, Dunant CF, Zandi S, Neumann A, Plumb I, Doulatov S, Chen J, April C, Fan J-B, Iscove N, Dick JE. CDK6 Levels Regulate Quiescence Exit in Human Hematopoietic Stem Cells. Cell Stem Cell, 2015 Feb 19; 16 (3):302-313. PMCID:PMC4359055 * equal contribution

Laurenti E, Doulatov S, Zandi S, Plumb I, Chen J, April C, Fan J-B, Dick JE. The transcriptional architecture of human hematopoiesis identies multilevel control of lymphoid commitment. Nature Immunology, 2013 Jul; 14(7): 756-63. PMID:23708252