Professor Tony Green
Haematopoiesis and myeloid malignancies
Email: arg1000@cam.ac.uk
Laboratory: Cambridge Stem Cell Institute, Jeffrey Cheah Biomedical Centre
Departmental Affiliation: Haematology
Biography
Tony Green is Director of the Wellcome-MRC Cambridge Stem Cell Institute and Professor of Haemato-oncology at the University of Cambridge 
Education
He trained in medicine at the University of Cambridge and University College Hospital London, subsequently completing his haematology training at the Royal Free Hospital and the University Hospital of Wales, Cardiff.  He gained his PhD in molecular biology at the Imperial Cancer Research Fund in London and subsequently spent a post-doctoral period at the Walter and Eliza Hall Institute in Melbourne as a Hamilton-Fairley Travelling Fellow. 
Professional History
Following his move to Cambridge in 1991 as a Welcome Trust Senior Fellow, he was elected Professor of Haemato-oncology in 1999 and was appointed as Head of Department in 2000.  His laboratory research has focused on the control of normal blood stem cell behaviour and the processes by which such cells are subverted to cause haematological malignancies.  His early studies established the cis-regulatory mechanisms controlling expression of the SCL locus which encodes a key transcriptional regulator of HSC behaviour.  Since 2002 he has increasingly focused on the cellular and molecular mechanisms responsible for human myeloproliferative neoplasms (MPNs), recognising that these disorders provide a uniquely powerful avenue for understanding how blood stem cells undergo neoplastic transformation.  The molecular basis of the MPNs was completely obscure and has only been revealed over the last decade by research which has had direct clinical impact and in which the Green lab has played a central role, with a unique combination of basic, translational and clinical approaches.  His work has not only illuminated the molecular and cellular pathogensis of these tumours, but has also resulted in mechanistic discoveries of broad biological relevance to cytokine signalling and cancer biology. 
Clinical Research
He established and directed the specialist myeloproliferative disorder clinic at Addenbrooke's Hospital (1991-2016), co-founded in 1995 a national cooperative group of UK MPN clinicians and has been Chief Investigator for the PT-1 suite of international clinical trials in essential thrombocythaemia.   
Awards
Elected Fellow of the Academy of Medical Sciences (2001), Newton Abraham Visiting Professor, University of Oxford (2011), Distinguished Visiting Professor Cancer Science Institute, Singapore (2009-10), Grinberg/Wisch Visiting Professor, Mount Sinai Medical Center, New York (2013), and Clement A Finch Visiting Professor, University of Washington (2015), Meyer Cancer Center Visiting Professor, Weill Cornell Medicine, New York (2017) and President of the European Haematology Association (2015-2017). 
Funding
Bloodwise, Wellcome, Cancer Research UK, Kay Kendall Leukaemia Fund 
External links
www.cimr.cam.ac.uk/research/affiliated/green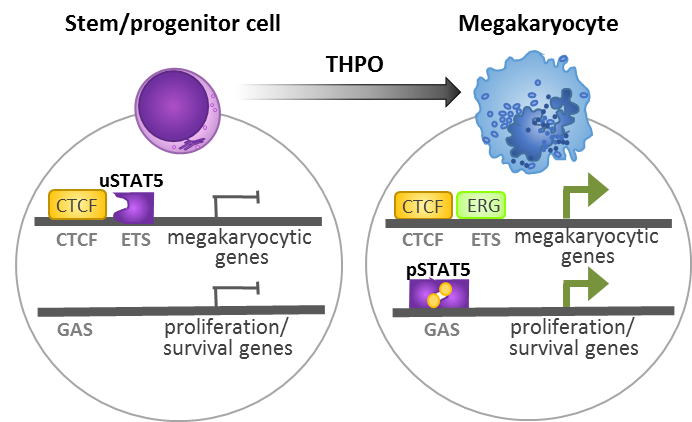 Tyrosine-unphosphorylated uSTAT5 plays a previsouly unrecognised role in regulating a genome-wide megakaryocytic transcriptional program. Thrombopoietin (THPO) therefore has two distinct transcriptional consequences: activation of a pSTAT5 program and derepression of a uSTAT5 program, with the latter responsible for megakaryocyte differentiation (Park et al., EMBO, 2016; image adapted from EMBO News & Views, 2016)
Research
The Green Lab focuses on the mechanisms whereby blood stem cells are subverted during the genesis of haematological malignancies.  Over the past decade we have increasingly concentrated on JAK/STAT signalling which is dysregulated in many cancers and plays a key role in multiple stem cell systems.  In particular we have explored the molecular and cellular pathogenesis of a group of pre-leukaemic disorders, the myeloproliferative neoplasms (MPNs), in studies which have spanned basic, translational and clinical research. The myeloproliferative neoplasms harbour mutations that activate the JAK/STAT pathway, are experimentally tractable and provide a paradigm for the earliest stages of tumorigenesis, inaccessible in other cancers.  We described the MPN "mutational landscape" and identified causal mutations which revolutionised their diagnosis and catalysed development of therapeutically valuable JAK-family tyrosine kinase inhibitors. Our more basic research is illuminating the mechanisms whereby the JAK/STAT pathway regulates diverse aspects of cellular function including chromatin biology, DNA replication, genome-wide transcriptional programs and stem cell fate.  Recent highlights include: identification of calreticulin mutations in most patients with a JAK2-unmutated MPN, thus establishing an unexpected link with endoplasmic reticulum biology; the first demonstration in any cancer that mutation order affects stem and progenitor behaviour, thus influencing clinical presentation, disease outcome and response to therapy; and the description of paradigm-shifting non-canonical mechanisms of JAK/STAT signalling.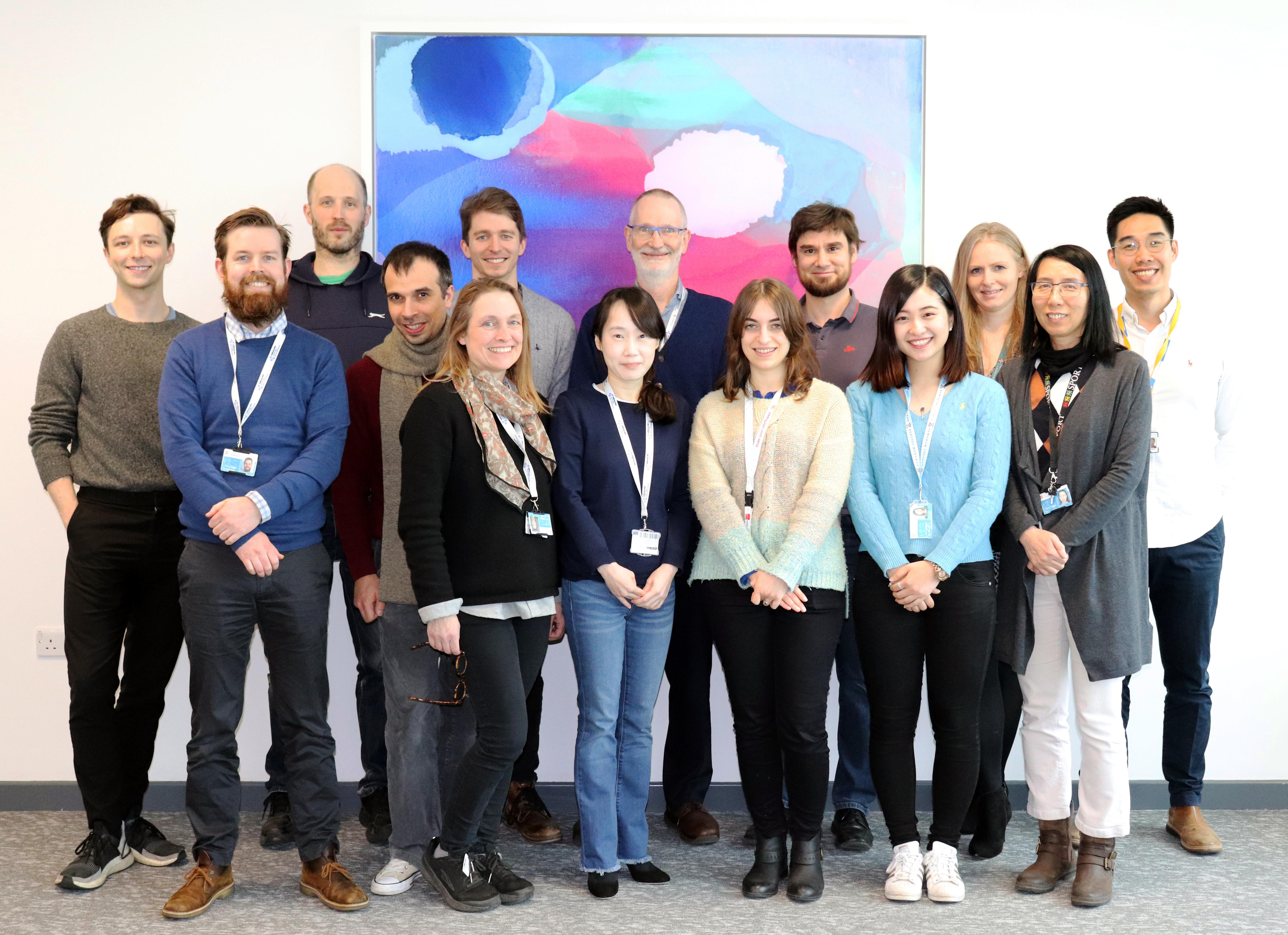 Group Members
Juliet Aungier, Hugo Bastos, Tina Hamilton, Thorsten Klampfl, Juan Li, Stephen Loughran, Hyun Jung Park, Dean Pask, Daniel Prins, Rachel Sneade, Matthew Williams.
Potential postdocs, clinical fellows and students:
We are always keen to hear from good people. Please email (sci-haem-ea@cimr.cam.ac.uk) with a copy of your CV including the details of two referees. 
Plain English
Blood stem cells produce a large number of cell types and are the best studied adult stem cell system. We are interested in the molecular mechanisms that control the formation and behavior of normal blood stem cells and how these processes are perturbed during the development of haematological malignancies. In particular we have focussed on a group of human pre-leukaemic disorders, called the myeloproliferative neoplasms, in studies which span basic, translational and clinical research. Our basic studies are illuminating the fundamental mechanisms by which these disorders arise, and have a broad relevance for other cancers and for the normal process of blood cell formation. Moreover, our results have already had major clinical impact, with new diagnostic approaches embedded in international guidelines and multiple JAK inhibitors in clinical trials. 
Key Publications