Professor George Vassiliou
Leukaemic haemopoietic stem cells
Email: gsv20@cam.ac.uk
Laboratory: Cambridge Stem Cell Institute, Jeffrey Cheah Biomedical Centre
Departmental Affiliation: Haematology
Biography 
George Vassiliou graduated from the Royal London Hospital Medical College in 1994, having obtained an intercalated BSc in Pharmacology with Basic Medical Sciences in 1991. He carried out his basic medical training in London and Cambridge and became a member of the Royal College of Physicians in 1997. He went on to train in Haematology at the Hammersmith and Great Ormond Street Hospitals, and received his PhD from the University of Cambridge in 2005. After completing his Haematology training in Cambridge, he became a Member of the Royal College of Pathologists in 2005 and from 2006-11 carried out a postdoctoral period in Allan Bradley's Laboratory at the Wellcome Trust Sanger Institute, funded by a Cancer Research UK Clinician Scientist Fellowship. In 2011 he won a Wellcome Trust Senior Fellowship in Clinical Science and became a member of Faculty and Group Leader at the Sanger Institute. He joined the Faculty of the Cambridge Stem Cell Institute in 2015. Additionally, he has been an honorary Consultant Haematologist at Cambridge University Hospitals since 2006.
Funding
Cancer Research UK, Wellcome Trust, Kay Kendall Leukaemia Fund, Bloodwise, Leukemia Lymphoma Society
Research       
The Vassiliou Group seeks to understand the cell-autonomous and cell-non-autonomous processes involved in transformation of normal to leukaemic haemopoietic stem cells and to identify genetic vulnerabilities of myeloid malignancies that can be exploited as targets of novel anti-leukaemic therapies. 
To achieve these aims the group uses three main approaches: 
Application of genetic screens to identify and investigate genetic vulnerabilities of acute myeloid leukaemia and related cancers in order to develop new therapeutic approaches
Generation and study of bespoke mouse models of somatic mutation drivers of myeloid malignancies, in order to define their molecular, genomic and phenotypic effects on haemopoietic stem and progenitor cells
Detection and tracking of the evolution of clonal haematopoiesis in healthy individuals, in order to understand the factors involved in leukaemic progression and develop new approaches for early detection.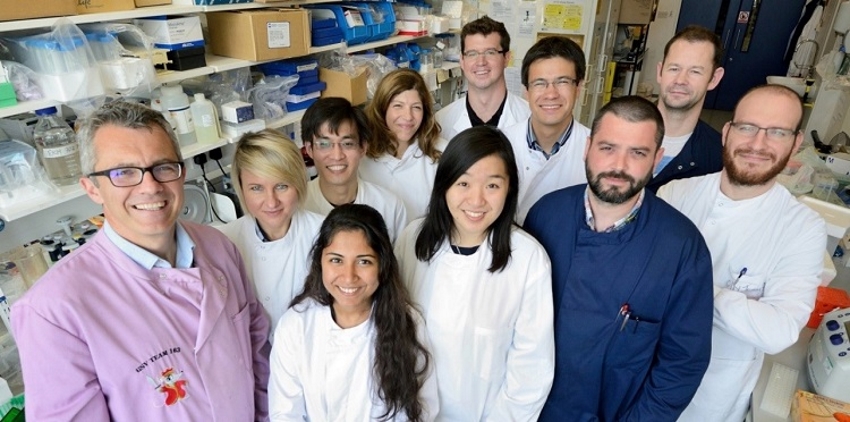 Group Members
Faisal Basheer, Vijay Baskar, Grace Collord, Etienne De Braekeleer, Oliver Dovey, Monika Dudek, Margaret Fabre, Dimitris Garyfallos, Gonia Gozdecka, Muxin Gu, Suruchi Pacharne 
Plain English
Blood stem cells live in the bone marrow and are responsible for the production of the cells of the blood and the immune system. Like all cells, blood stem cells accumulate random DNA mutations with time in every one of us. Unfortunately, in some people these changes affect genes that make the stem cells grow uncontrollably leading to the development of Acute Myeloid Leukaemia (AML), an aggressive cancer that kills more than 7 out of 10 sufferers. Our group investigates many aspects of AML from how it develops, how we can identify people at risk and how gene mutations change AML cells to make them grow abnormally. Importantly, we have also developed approaches to identify the genetic "weaknesses" of AML in order to develop new treatments against this and related cancers.
Key Publications
Abelson S, Collord G, Ng SWK, Weissbrod O, Mendelson Cohen N, Niemeyer E, Barda N, Zuzarte PC, Heisler L, Sundaravadanam Y, Luben R, Hayat S, Wang TT, Zhao Z, Cirlan I, Pugh TJ, Soave D, Ng K, Latimer C, Hardy C, Raine K, Jones D, Hoult D, Britten A, McPherson JD, Johansson M, Mbabaali F, Eagles J, Miller JK, Pasternack D, Timms L, Krzyzanowski P, Awadalla P, Costa R, Segal E, Bratman SV, Beer P, Behjati S, Martincorena I, Wang JCY, Bowles KM, Quirós JR, Karakatsani A, La Vecchia C, Trichopoulou A, Salamanca-Fernández E, Huerta JM, Barricarte A, Travis RC, Tumino R, Masala G, Boeing H, Panico S, Kaaks R, Krämer A, Sieri S, Riboli E, Vineis P, Foll M, McKay J, Polidoro S, Sala N, Khaw KT, Vermeulen R, Campbell PJ, Papaemmanuil E, Minden MD, Tanay A, Balicer RD, Wareham NJ, Gerstung M*, Dick JE*, Brennan P*, Vassiliou GS*, Shlush LI*. Prediction of acute myeloid leukaemia risk in healthy individuals. Nature. doi: 10.1038/s41586-018-0317-6 (2018). PMID:29988082.
Gozdecka M, Meduri E, Mazan M, Tzelepis K, Dudek M, Knights AJ, Pardo M, Yu L, Choudhary JS, Metzakopian E, Iyer V, Yun H, Park N, Varela I, Bautista R, Collord G, Dovey O, Garyfallos DA, De Braekeleer E, Kondo S, Cooper J, Göttgens B, Bullinger L, Northcott PA, Adams D, Vassiliou GS*, Huntly BJP*. UTX-mediated enhancer and chromatin remodeling suppresses myeloid leukemogenesis through noncatalytic inverse regulation of ETS and GATA programs. Nat Genet. 50(6):883-894. doi: 10.1038/s41588-018-0114-z. (2018). PMID: 29736013.
Barbieri I, Tzelepis K, Pandolfini L, Shi J, Millan-Zambrano G, Robson SC, Aspris D, Migliori V, Bannister AJ, Han N, De Braekeleer E, Ponstingl H, Hendrick A, Vakoc CR, Vassiliou GS* & Kouzarides T*. Promoter-bound METTL3 maintains myeloid leukaemia by m(6)A-dependent translation control. Nature 552:126-131 (2017). PMID:29186125
Tzelepis K, Koike-Yusa H, De Braekeleer E, Li Y, Metzakopian E, Dovey OM, Mupo A, Grinkevich V, Li M, Mazan M, Gozdecka M, Ohnishi S, Cooper J, Patel M, McKerrell T, Chen B, Domingues AF, Gallipoli P, Teichmann S, Ponstingl H, McDermott U, Saez-Rodriguez J, Huntly BJ, Iorio F, Pina C*, Vassiliou GS* & Yusa K*. A CRISPR Dropout Screen Identifies Genetic Vulnerabilities and Therapeutic Targets in Acute Myeloid Leukemia. Cell Reports 17:1193-1205 (2016).PMCID:PMC5081405
McKerrell T, Park N, Moreno T, Grove CS, Ponstingl H, Stephens J, Understanding Society Scientific G, Crawley C, Craig J, Scott MA, Hodkinson C, Baxter J, Rad R, Forsyth DR, Quail MA, Zeggini E, Ouwehand W, Varela I, Vassiliou GS. Leukemia-associated somatic mutations drive distinct patterns of age-related clonal hemopoiesis. Cell Reports 10:1239-1245 (2015). PMCID:PMC4542313