Dr Ana Cvejic
Haematopoietic stem cells
Email: as889@cam.ac.uk 
Laboratory: Cambridge Stem Cell Institute, Jeffrey Cheah Biomedical Centre
Departmental Affiliation: Haematology
Biography
In 2008 Ana received her PhD in Biochemistry at the University of Bristol. She then moved to University of Cambridge/Wellcome Trust Sanger Institute to start a Postdoctoral Fellowship, with Professor Willem Ouwehand. Over the next three and a half years, Ana independently established haematopoiesis research using the zebrafish model at the Sanger Institute. In 2012 Ana was awarded the CRUK Career Development Fellowship to perform functional characterisation of genes implicated in blood formation using zebrafish as an in vivo model. In 2015 Ana was awarded ERC Starting Grant and in 2016 EMBO Young Investigator Award.
Ana is currently Principal Investigator at the Department of Haematology, University of Cambridge and an Honorary Faculty member at the Sanger Institute. 
Funding
Cancer Research UK (CRUK) , José Carreras Foundation, European Research Council (ERC), European Hematology Association 
External Links
http://www.haem.cam.ac.uk/staff/senior-staff/dr-ana-cvejic/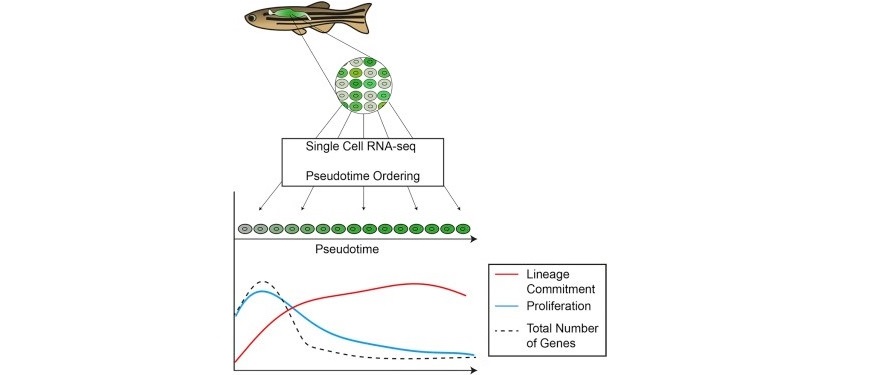 Single-cell RNA-sequencing reveals the continuous nature of zebrafish thrombocyte development. The progression of cells along this continuum is characterized by a highly coordinated transcriptional program, displaying simultaneous suppression of genes involved in cell proliferation and ribosomal biogenesis as the expression of lineage specific genes increases. Number of genes expressed and mRNA content per cell decrease during differentiation 
Research
Blood stem cells need to both perpetuate (self-renew) themselves and differentiate into all mature blood cells to maintain blood formation throughout life. Clarifying how HSCs differentiate into diverse cell types is important for understanding how this process is subverted in the generation of blood pathologies. The aim of my group is to bridge this knowledge gap by providing a method in a relevant model organism (zebrafish, Danio rerio) that will allow us to dissect the role of novel blood genes. We combine genetic perturbation with computational sequence and network analysis, to reconstruct and validate gene regulatory networks in zebrafish blood development. The results from our studies will advance our understanding of how normal fate decisions are instigated and provide clues for the design of novel therapies for blood pathologies. 
Group Members
Emmanouil Athanasiadis, Brynelle Myers, Anna Maria Ranzoni, Stasa Stankovic, Paulina Strzelecka
Plain English
A single cell type, the haematopoietic stem cell (HSC), is responsible for generating all blood cells throughout the lifetime of an organism. The HSC is a rare cell that resides primarily in the bone marrow of adult mammals. It has the ability to either self-renew, and generate more stem cells or differentiate and generate over 10 different blood cell types. These different blood cells provide functions such as protection against infections, oxygen transport and maintaining haemostasis. Thus, over time each HSC makes essential fate decisions by integrating a wide array of signals from the microenvironment and completing complex changes in the regulation of gene expression. Clarifying how HSCs differentiate into diverse cell types is important for understanding how they attain their various functions and offers the potential for therapeutic manipulation. 
Key Publications
Athanasiadis EI, Botthof JG, Andres H, Ferreira L, Lio P, Cvejic A. Single-cell RNA-sequencing uncovers transcriptional states and fate decisions in haematopoiesis. Nature Communications. 2017 Dec 11;8(1):2045. PMCID: PMC5725498

Botthof JG, Bielczyk-Maczyńska E, Ferreira L, Cvejic A (2017). Loss of the homologous recombination gene rad51 leads to Fanconi anemia-like symptoms in zebrafish. Proceedings of the National Academy of Sciences USA. 2017 May 30;114(22):E4452-E4461 PMCID: PMC5465903

Carmona SJ, Teichmann SA*,♯, Ferreira L, Macaulay IC, Stubbington MJT, Cvejic A*,♯, Gfeller D*,♯ (2017). Single-cell transcriptome analysis of fish immune cells provides insight into the evolution of vertebrate immune cell types. Genome Research, 2017 Mar;27(3):451-461 (♯corresponding author, *joint senior author) PMCID:PMC5340972

Macaulay IC, Svensson V, Labalette C, Ferreira L, Hamey F, Voet T, Teichmann SA,

 

Cvejic
 A

 

(2016).

 

Single-Cell RNA-Sequencing Reveals a Continuous Spectrum of Differentiation in Hematopoietic Cells.

 

Cell Reports, 14(4):966-7.

 

PMCID:PMC4742565
Cvejic A*,&, Haer-Wigman L*, Stephens JC*, Kostadima M, Smethurst PA, Frontini M, Sipos B, Akker Evd, Bertone P, Bielczyk E, Farrow S, Fehrmann RSN, Gray A, Haas M, Haver VG, Jordan G, Karjalainen J, Kerstens HHD, Kiddle G, Loyd-Jones H, Needs M, Poole J, Soussan A, Rendon A, Rieneck K, Sambrook JG, Schepers H, Siljer HHW, Swinkels D, Tamuri AU, Verweij N, Watkins NA, Westra HJ, Stemple D, Franke L, Soranzo N, Stunnenberg HG, Goldman N, Harst Pvd, C Schoot Evd, Ouwehand WH&♯, Albers C&♯

 

(2013).

 

The red blood cell GWAS gene SMIM1 underlies the Vel blood group and is a novel regulator of red blood cell formation.

 

Nature Genetics, 45(5):542-5. (&corresponding author, *joint first authors)

 

PMCID:PMC4179282